Who is Keith David?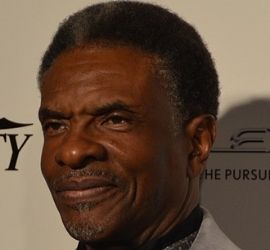 Keith David is an American actor, singer, and voice-over artist. His birth name is Keith David Williams.  Keith was born in Harlem, New York, and grew up in Queens. He began acting in school plays during elementary school.  The experience inspired him.  The aspiring actor went on to attend the High School of the Performing Arts. He then graduated from The Juilliard School with a BFA in Drama in 1979. Keith began his professional acting career in the theater, touring with the prestigious The Acting Company in the early 80s. He became a household name appearing opposite Kurt Russell in the production of  The Thing (1982).
The actor went on to a steady and prolific film, television, stage, and voice-over career.  He has appeared in numerous independent films including the critically acclaimed Requiem for a Dream, playing the role of Big Tim. He has also appeared extensively in television and voice-over productions since the 1980s.
Film Career Highlights
He has appeared in two Academy Award Best Picture winners – Platoon (1986) and Crash (2005).  Also, roles in Road House (1989), Men at Work (1990), Reality Bites (1994), The Quick and the Dead (1995), Armageddon (1998),  There's Something About Mary (1998), Requiem for a Dream (2000), Barbershop (2002), Agent Cody Banks (2003), Mr. & Mrs. Smith (2005), Death at a Funeral (2010), Cloud Atlas (2012), Range 15 (2016), 21 Bridges (2019).  And, many other film projects.
Television Career Highlights
Mister Rogers' Neighborhood (1983-1985), Ladykillers (1988), A Man Called Hawk (1989), The Last Outlaw (1993), New York Undercover (1996), Vanishing Point (1997), The Tiger Woods Story (1998), Law & Order ( 2001), The Job (2001-2002), The Big House (2004), Grey's Anatomy (2005), 7th Heaven (2006-2007), Psych (2008 ), The Cape (2011), Greenleaf (2016-2020).  And, many other television projects.
Voice-over Career Highlights
He has also provided voice-over work for a massive number of cartoons and videogames, including Aladdin, Fantastic Four, Hercules, Jazz, Spider-Man, Halo, Call of Duty, Archer, Justice League, Stretch Armstrong, and Young Justice.  And, many other voice-over projects.
Keith David Fun Facts
Keith David is a classically trained actor at Julliard Academy.  He won 3 Emmys out of 6 nominations.  Also, was also nominated for Broadway's 1992 Tony Award for his featured performance in Jelly's Last Jam.
Charlie Sheen credits David with saving his life filming Platoon. While shooting a scene in an open-doored helicopter gunship, the chopper banked hard and Sheen was thrown towards the open door. David grabbed him and pulled him back before Sheen fell through to almost certain death.
Appeared in two films that both won the Academy Award for Best Picture: Platoon (1986) and Crash (2005).
Awarded the 1991 Drama Logue Award for Outstanding Lead Performance for Jelly's Last Jam and the 1996 Drama Logue Award for Performance for Seven Guitars.
Keith David Defining Roles
Greenleaf (2016-2020) – Keith David plays Bishop James Greenleaf
The series has been described as Empire except the family is running a mega-church instead of a record label.  The church is located in Memphis, Tennessee.  The story focuses on absent daughter, Grace who returns to Calvary Fellowship World Ministries for her sister's funeral.  The church boasts over 4,000 worshipers.  It is run by Grace's father, Bishop James Greenleaf (Keith David), and her mother, Lady Mae (Lynn Whitfield). Oprah Winfrey plays Grace's aunt Mavis, the owner of a jazz club on Beale Street.  Mavis is Grace's favorite relative and confidante.  The bond is primarily because Mavis was not a part of the church while Grace was growing up. Mavis is outspoken, fearless, and usually a bit tipsy. She's a great character and Oprah does a great job bringing the character to life.  Unfortunately, she's more of an afterthought and not central to the main action.
Grace was once a rising star as a pastor. She left under shady circumstances and her appearance, at her sister's funeral, causes immediate tensions with siblings Charity (Deborah Joy Winans) and Jacob (Lamman Rucker), who view Grace as a threat to their place in the lucrative church. Calvary is also facing a government investigation for financial irregularities and there's a darker threat courtesy of Lady Mae's brother Mac (Gregory Alan Williams). (Source: hollywoodreporter.com)
There's Something About Mary (1998) – Keith David plays Mary's Dad
Something About Mary far exceeds the Farrelly Brothers' first two films, Dumb and Dumber and Kingpin. The Farrelly Brothers still use and vulgar humor – liberally.  Nevertheless, Something About Mary emerges as a sweet, if not a crude romantic comedy.  Some of the gags are outright hilarious.
One reason that the film works when it could have easily flopped is that the actors are all perfect for their chosen parts. With different casting, half the jokes might have fallen flat. Ben Stiller understands comedy and makes us like and sympathize with Ted while laughing at him. Matt Dillon has fun playing against type.  He is usually given the role of the brooding hero.  Matt proves that his comic performances To Die For and In & Out weren't flukes. As the "straight man," Cameron Diaz always exudes screen presence.  She is more radiant than in anything since her screen debut The Mask. (Source: reelviews.net)
Platoon (1986) – Keith David plays King
Platoon reveals the brutal nature of war without glorifying it.  Unfortunately, war movies have a nasty side-effect of making battles look exciting and exhilarating.  This film does not fall into that trap.  The movie recounts a duty tour in Vietnam of soldier Chris Taylor, fresh out of boot camp.  He enters the war zone clearly not belonging there.  Over the course of the film, he emerges as a credible soldier.  Platoon is semi-autobiographical. Oliver Stone served as an infantryman in Vietnam.  He grafted many of his experiences into the film.  The primary characters are based on individuals Stone served with.
The lead, Chris Taylor (Charlie Sheen), represents the filmmaker. One could reasonably argue that the reason Platoon is so good is because it has such a deeply personal meaning for Stone. There's no razzle-dazzle – just basic, powerful storytelling. Platoon is not primarily a political film. The politics are all in the background. The movie isn't concerned about the rights or wrongs of being in Vietnam. Those things are abstract, and this is about the concrete: surviving to see another fight, counting down the days until a tour of duty is over, and living each moment with the Angel of Death hovering close. The Viet Cong are the enemy – not because they're Communists, but because they are shooting to kill. (Source: ibid)
Keith David Memorable Quotes
When I first came to Los Angeles, there was a restaurant that was owned by an actor and it was called "Residuals". If you received a residual check for $1 or less, you got a free drink. They had a bulletin board of residuals with sayings on them, and one of the sayings was: "Fame is what they give you. Success is what you give yourself." I read that and I immediately went home and put that in my journal. – Keith David
We've all heard of that thing called typecasting. And that comes from what I would call "personality actors" — actors who just play themselves under the circumstances of the character. In this town, that has been rewarded for a long time. If that's what you want to do, fine. Who am I to dog that? I don't have to agree with it, I don't have to like it, but people do that. People get called on to do it, and people get paid very well to do it. It's not what I have ever been interested in because even if I'm playing the lead character, it's a character. I want to find within myself what is unique about the man that I'm playing that I can exploit and explore more than just what I would do. – Keith David
Mr. Rogers was a phenomenal guy. I was privileged. It was my first real TV spot, and I felt really honored to be on Mr. Rogers because I loved the work that he did, and I loved the fact that he is an ordained Presbyterian minister and his ministry was to children. He was one of a kind. – Keith David
Net Worth and Zodiac Sign
Keith David is an American actor, singer, and voice-over artist who has a net worth of $3 million dollars.  The actor was born on June 4th.  That makes him a Gemini.
June 4 birthday horoscope shows that you are a bold and artistic Gemini. You can be a ray of sunshine and have an impact on how other folks feel. This could be dangerous if you don't use this gift wisely. You have more than your share of versatility causing you to be fidgety. Your creativity can do wonders in your life. A Gemini can also be bossy, innovative, and conscientious. You may be friendly, patient, and disciplined. Gemini born on this day are not idle individuals. Also, you can be intuitive and analytical.  It's fortunate that you can fall out of love just as fast. When you find that special someone, you are not hesitant to show your feelings but when you don't get love in return, the June 4th birthday astrology predicts that those born under this zodiac sign are subject to mood swings.  (Source: sunsigns.org)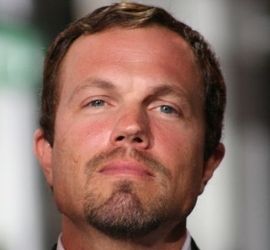 Adam  Baldwin is an American actor born on February 27th in Winnetka, Illinois, in 1962.  Baldwin made his big-screen debut appearing as Ricky Linderman in My Bodyguard (1980). He appeared in five other films before landing his breakout role as Animal Mother in Stanley Kubrick's Full Metal Jacket (1987). Baldwin is well known for his other film roles including Independence Day (1996), The Patriot (2000), and Serenity (2005).
Baldwin and his wife, Ami, have three children together. The youngest is a son, Devlin Shepard Baldwin, born on October 17, 1996. The pair have two daughters, Zoey Baldwin born in 1990, and Jeselle Baldwin born in 1992.  During time off away from work, Adam likes to mountain bike, bowl, play Frisbee, and baseball with his family.  Also, he regularly plays in celebrity hockey events.