Who is Adam Baldwin?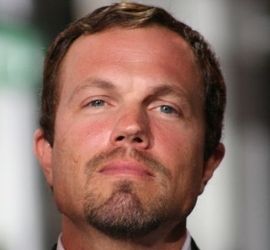 Adam  Baldwin is an American actor born on February 27th in Winnetka, Illinois, in 1962.  Baldwin made his big-screen debut appearing as Ricky Linderman in My Bodyguard (1980). He appeared in five other films before landing his breakout role as Animal Mother in Stanley Kubrick's Full Metal Jacket (1987). Baldwin is well known for his other film roles including Independence Day (1996), The Patriot (2000), and Serenity (2005).
Baldwin and his wife, Ami, have three children together. The youngest is a son, Devlin Shepard Baldwin, born on October 17, 1996. The pair have two daughters, Zoey Baldwin born in 1990 and Jeselle Baldwin born in 1992.  During time off away from work, Adam likes to mountain bike, bowl, play Frisbee and baseball with his family.  Also, he regularly plays in celebrity hockey events.
Baldwin is politically very conservative.  He conducts ongoing political discussions via his Twitter account.He revealed publicly that his shift in his political views came after reading Radical Son by David Horowitz. Baldwin writes for Big Hollywood and The Huffington Post. The actor is a supporter of Ride 2 Recovery, an organization that works with wounded American veterans.
Career
Baldwin is probably most recognized for his recurring television roles.  These include The X-Files (2001-2002), Firefly (2002-2003), Angel (2004), Day Break (2006-2008), Chuck (2007-2012), and The Last Ship (2014-2018).
His role as Jayne Cobb on Firefly earned him a Best Supporting Actor/Television Award at the 2006 SyFy Genre Awards. He has voiced several animated characters in movies and video games.  These include Superman: Doomsday, DC Universe Online, Halo 3, Half-Life 2: Episode 2, and Mass Effect 2.  Other TV and film credits include D.C. Cab, Bitter Harvest, Predator 2, How To Make an American Quilt, Double Bang, Drillbit Taylor, Jackie Chan Adventures, and CSI: Miami.
Adam Baldwin Defining Roles
The Last Ship (2014-2018)  Adam Baldwin plays Captain Mike Slattery, USN
How's this for a motto as minkind is on the brink of destruction: "No cure, No country, No surrender"! The series provides excitement and suspense.  Each episode is self-contained with a complete storyline and satisfying conclusion.  While every officer may not live up to strict military standards, it's nice to know the USN still has our backs.
A virus has wiped out most of the world's population, and civilization has collapsed. On the brighter side, good-looking peppy people are still alive. These men and women were in the Arctic aboard a Navy destroyer during the outbreak and avoided contagion. As they roam the seas looking for other signs of life, they are more far more confident and civilized than the feral few on the AMC drama The Walking Dead. (Source: nytimes.com)
Chuck (2007-2012)  Adam Baldwin plays John Casey
Chuck is a series full of humor about young twenty-something spies that doesn't take itself too seriously.  The character, Chuck, is a computer geek who accidentally downloads government secrets and classified data directly into his brain.  Other government agencies assign agents to protect him.  But, of course, they end up using his knowledge for their own national security priorities.
Zachary Levi plays Chuck Bartowski, a nerdy computer tech who has a database of government secrets downloaded into his brain. Chuck soon finds himself recruited by John Casey (Adam Baldwin), a veteran NSA Agent, for espionage work with his new partner and first date in 10 years Sarah (Yvonne Strahovski) – leading Chuck to live a split life of computer geek and secret NSA missions.  (Source: metacritic.com)
Firefly (2002-2003)  Adam Baldwin plays Jayne Cobb
Cult phenomenon – part western, part science fiction – who would have guessed?  But, the episodes were well thought out and written.  The characters had depth and empathy.  It's a shame the series was canceled after half a season. Yet, fifteen years later, the series still has a cult following.  Who would have guessed?  The show did not fail due to the quality of the concept or delivery.  Fox Studios simply dropped the ball and mishandled where to insert it into their line-up.
Set 500 years in the future, Firefly takes place in a not-too-distant solar system.  The series takes its name from a Firefly-class spaceship.  People are living on a smattering of planets that have been terraformed to house the growing human population. The result is a sort of futuristic frontier town, a unique mashup of cultures, conventions, and characters that straddle a line between John Wayne western and Star Wars. Led by Nathan Fillion's kind-hearted space cowboy Mal, they are a ragtag collection of misfits and outsiders, each with their own intriguing backstory that's spoon-fed over the series' first salvo of slow-burn episodes. (Source: theguardian.com)
Adam Baldwin Quotes
My father was in the Naval Air Corps at the tail end of World War II, and my grandfather was in the Army in World War I, Purple Heart. I've been honored and blessed to have worked on shows where I'm in uniform, and I try to honor it as much as I can. I have nothing but the highest regard for people who are in the armed forces. They keep us free and safe to do what we do. – Adam Baldwin
I have what I like to call mile-markers in my life. The first one being My Bodyguard and then moving forward to D.C. Cab and to Full Metal Jacket and then on into television roles I've had on The X-Files, Firefly, Casey on Chuck, and now I'm playing Mike Slattery. They're all different times in my life. I would say, romantically speaking, because I didn't get to finish the arc on Firefly, that whole piece holds a special place in my heart. It all really ties back to my dad and going to those movies and seeing those icons. – Adam Baldwin
A five-year run on any show these days is a true blessing and to have been able to go through it with people who are nice and creative and funny and hardworking and just lovable. I mean, we're gypsies really in this business.  We're circus players and we travel from town to town it seems like. So to land on one for five years has been a joy and, you know, it's sad to see it go. But at least we have those five years together and we appreciated it while it was happening. So I just feel blessed and honored to have been a part of it. – Adam Baldwin
Adam Baldwin Net Worth and Zodiac Sign
Baldwin is an American actor who has a net worth of $5 million.
Zodiac Sign
Baldwin was born on February 27th.  That puts him under the zodiac sign of Pisces, the fish.
FEBRUARY 27 BIRTHDAY, you are kind-hearted and humble. You are understanding and compassionate. The zodiac sign for 27th February is Pisces. You are affectionate and easy-going. This list of admirable qualities is long. You are everyone's favorite.  However, you are affected by your surroundings that could influence your moods. This is not necessarily life-threatening, but you should not let your environment control you.
Those of you born on this day February 27, should be in control at all times. You are capable, Pisces, of dealing with conditions that seem troubling to you. According to your birthday horoscope profile, your submissive nature concerns your friends and family. While you are helpful when it comes to others, you are inclined to think your problems will magically disappear. (Source: sunsigns.org)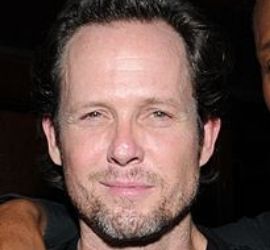 Dean Winters is an American actor.  He first became famous after appearing as the character Ryan O'Reily on HBO's Oz. He has also portrayed Johnny Gavin on FX Network's Rescue Me, and as Dennis Duffy on NBC's 30 Rock.
Winters was born on July 20, 1964, in New York City, New York. He has three younger brothers. He has also starred in several major motion pictures including Conspiracy Theory (1997), Snipes (2001), P.S. I Love You (2007). Winters also appeared in many television series such as Homicide: Life on the Streets (1995-1996), Law & Order: Special Victims Unit (1999-2000), and Terminator: The Sarah Connor Chronicles (2008-2009).
Dean contracted a pathogenic bacterial infection in June 2009.  He collapsed in his doctor's office and went into cardiac arrest while being transported to a hospital.  He was revived but spent three weeks in intensive care.  Due to this infection, gangrene set in and he had many subsequent surgeries.  The procedures included the amputation of two toes, part of a thumb, and many skin grafts. He was away from acting until the spring of 2010. Beginning in the summer of 2010, Winters appeared as the character known as Mayhem in the Allstate insurance advertising TV commercials.  He also re-joined the cast of 30 Rock, with help and encouragement from Tina Fey.  Winters credits Tina with bringing his career back to life.