Steam ID – What is it?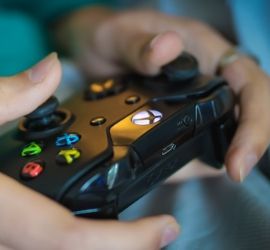 Steam allows multiple people to have the same username at once. This makes getting the display name you want easier.  But, it often causes a problem when trying to look up a specific account.  Fortunately, Steam tracks every account with a unique string of numbers, known as your Steam ID. You can use this 17-digit number ID to link other people to your account.  Also, you can use it in third-party tools like SteamDB.   So, what is my Steam ID? 
Your SteamID is an identifier used to identify your Steam account.  Every Steam user has a unique SteamID, that cannot be changed.  Here are four different ways to find it.
What is My Steam ID – URL Method

1. Log in to the Steam application on your Mac or PC.
2. Open your profile – Click the button at the top of the screen — it's your profile name in big letters.
3. Check the URL – You should see a URL appear below the button. Your Steam ID is the long string of numbers in that URL.
What if you still don't see it?
Click on "Steam" at the top of the window, or in your menu bar at the top of the screen on a Mac.
Select "Settings" on a PC, or "Preferences" on a Mac).
Click "Interface" – In the menu that opens in the left sidebar.
Check the box that says "Display Steam URL address bar when available."
Click "OK", and then go back to your profile.
Your URL should now appear – The long number at the end of the URL is your Steam ID.
What is My Steam ID – View Profile Method
Log in to your Steam account.
In your steam interface, click on your username in the top right corner, then click "View Profile".
Your SteamID should be at the very top, shown in a link.
What is My Steam ID – In-game Console Method 
The in-game console method is the easiest way when running a game.
Requirements:
Running a game from Valve, based on GoldSrc or Source Engine (example: Half-Life, Counter-Strike, Team Fortress).
Connection to any game server.
Activated console
Press ~ key on your keyboard (it's named Tilde). It will open your console.
Then write "status" and press Enter.
This will show a list of connected players with their SteamID's.
You can Copy/Paste information from the console with CTRL+C/CTRL+V keyboard shortcuts.
What is My Steam ID – SteamRep Method
Steamrep.com is a widely used website with information about Steam users.  Check out the Steamrep link filter here.  You can search users by profile URL or by their custom profile address (alias).
Steam ID Frequently Asked Questions
What is my SteamID?  The SteamID is an identifier used to identify a Steam account.  Every Steam user has a unique SteamID, that cannot be changed.
Why do I need to know this?  There may be many situations when you'll need it.
SteamID is a good way to search for information about users.
On many Internet Forums, Steam ID needs to be filled in the profile options.
Sometimes is needed for the Unban application or for the cheater report.
How do you find someone else's SteamID? – If You have enabled showing URL already – open Your friend's list. Choose a person, open his menu, and choose "View Steam Profile". Select and copy the address (CTRL+C). Now You can use it to find SteamID.
How do I find my Steam account name?  Choose Interface. Ensure the Display Steam URL address bar when available is ticked. Click OK to save your settings. To view your Steam ID, click on your Steam username.
 Is your Steam ID your account name? – Is it my "Steam Account Name" or my "Steam Community ID" that displays in-game? Your SteamID and Steam Account Name can not be changed, even by Steam Support staff members. Your Steam Community ID can be changed at any time in your Steam Community settings, under "Edit my SteamID page.
What is steam 64 ID? – You can find your Steam ID from the profile tab of the Steam application by locating its URL. Your Steam ID is a 17-digit number unique to you, which you can use to link other people to your profile, or use for third-party applications
Guardian Con is a 2-day Gaming Convention.   The focus of the convention is a week-long charity gaming marathon to benefit St. Jude Children's Research Hospital. The convention consists of activities, special guests, food, and entertainment for all ages.  It is held in Orlando, Florida, USA.
Guardian Con was held at the Rosen Shingle Creek resort in Orlando in 2019.  It is frequently described as a "cruise ship for nerds on land,".  It's was confirmed the event would be there in 2020 as well, but COVID19 restrictions kind of stopped that from happening. It is scheduled at the same venue for 2021 – under the new name of the Gaming Community Expo.  If you stay at the hotel, you really never have to leave the complex.  It has your room, the event, and a network of eating places and shops and coffee spots.  There is everything you could possibly need to avoid going outside in Florida in July.