Who is Ben Abbott?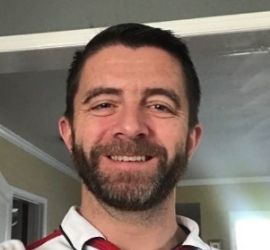 Ben Abbott is an expert swordsmith.  He won the top prize of the reality TV series Forged in Fire, not once but twice. Ben first appeared on Forged in Fire in 2016 where he won the ninth episode of the second season.  Ben also prevailed in the Season 3 Champion's Only episode where four former champions were pitted against each other. Based on his impressive performances, Ben was invited to work as a judge replacing J Neilsen in various episodes during the fifth and sixth seasons. His interest in making swords and knives developed from tours of English castles as a young teen.  Ben's knife making skills are largely self-taught.
Ben currently lives in Pasadena, California.  But, you might detect a slight British accent, because he was born in Great Britain. He is a former Caltech electrical engineer who now operates Ashgrove Forge.  In his forge, Ben makes just about anything metal you can imagine. His wife Mandy states that he made most of the pans and cutlery they use in their kitchen.
Ben Abbott History Bio
Ben Abbott is a two-time Forged in Fire champion who began making blades after seeing arms and armour in museums and castles around England when he was 13. Not being able to buy a sword at the time, he decided to make one for himself. After several spectacularly failed attempts, he decided to scale back his aspirations, and start smaller. He began making knives when he was about 17, and has been working on his understanding of their nuances ever since. He spent many years making knives, tools, ornamental ironwork, jewelry, furniture, and anything else that needed making, but still never made himself a sword. The first sword that Ben finally made was the winning khanda sword for Forged in Fire. Ben has firsthand experience with the pressure and challenges Forged in Fire contestants face, and knows the dedication it takes to walk away a champion.  (Source: history.com bios)
Ben Abbott – Early Forging History
Ben Abbott is mostly self-taught and never had a formal master bladesmith to study under. He taught himself from scratch, which is why his style seems eclectic and unique. Nevertheless, Ben efficiently uses a series of techniques to make some pretty impressive weapons. Ben first began making blades when he was 13 years of age. It was at this age he was fascinated with arms and armors featured in museums and castles around England.  Being able to buy a sword at the time, Ben started making one on his own.
Master Bladesmith
Ben may have started making blades from the age of 13, but his road to mastery was not an easy one. During his early days, Ben worked an old file and an outdoor fireplace. After a series of trials and errors, Ben started getting the hang of things. In the years that followed, Ben read a series of historical books, attended online classes, and also frequented the village's blacksmith. At the age of 17, Ben started making knives and has been working with them ever since. Over the years, Ben started working knives, tools, ornamental ironwork, jewelry, furniture, and everything else. But for all his exploits, Ben never made a sword. His first ever sword was the Khanda, which bagged him a first-place on the show.  (Source: thecelebsinfo.com)
Ben Abbott – Bladesmith on Forged In Fire
Ben's first appeared on Forged in Fire for the ninth episode of the second season. He built his first-ever sword and claimed his first "Forged in Fire Champion" Title. Ben was invited back to the first episode of the third season for a tournament of champions episode. Entitled Champions Edition, the episode pitted four champions against each other from the second season. Once again, Ben was the winner with his Scottish Claymore.   After his second win, Ben was promoted as a judge on the series. He replaced the ailing J. Neilson during the shows fourth and fifth season. Since he has been an ever-present figure and continues as a judge in the seventh season. As a judge, Ben brings a fresh perspective to the series.
A competitor himself, Ben would often dish out pointers as to what it took to become the winner. As a result, competitors often sought advice from Ben to overcome several challenges they faced in the series.  (Source: thecelebsinfo.com)
Frequent Questions about Ben Abbott
Why is Ben Abbott on Forged in Fire?
After winning the Champions Edition episode, Ben was asked to replace J Neilsen as a Forged in Fire judge while Mr. Neilsen had hand surgery. His role on the show since Season 1 has been to test the strength and utility of the contestant's weapons.  Season 3 saw J Neilson leave Forged in Fire. He had to step down from his judging role to have surgery on his hand. However, he returned for the season 4 premiere, so the injury didn't see him out of action for long.
What Forged in Fire episodes is Ben Abbott?
According to Ben Abbott on his Facebook page:  "On April 12th, I was on a show called "Forged in Fire" on the History Channel. Mine was Season 2, Episode 9 "The Khanda Sword". By guile, skill, and luck, I managed to win that show, and take home $10,000!"
What nationality is Ben Abbott?
Ben is an England native who is now based in Pasadena, California. Mr. Abbott has a website named "ashgroveforge.com" which he uses to sell knives and blades online. Ben has won the show Forged in Fire two times and won 10 thousand dollars each time.
What is Forged in Fire?
Forged in Fire is an American reality competition TV series that airs on the History channel.  The show is produced by Outpost Entertainment, a Leftfield Entertainment company.
In each episode, four bladesmiths compete in a three-round elimination contest to forge bladed weapons.  The overall winner receives $10,000 and the Episode's championship title. The series is hosted by Wil Willis, and a three-judge panel consisting of J. Neilson, David Baker, and Doug Marcaida, experts in weapon history and use. History ordered an initial eight episodes of the series with the first program premiering on Monday, June 22, 2015.  Jason Knight was a stand-in judge during portions of season 3 and 4.  Ben Abbott was a stand-in judge during portions of the 4th, 5th, 6th seasons.  He remains a series regular in the 7th season.
Season two premiered on February 16, 2016, and increased to 10 episodes. The third season premiered with a "Champion of Champions" match on August 23, 2016, and was announced as having 16 episodes. The fourth season premiered on April 11, 2017, with a "Judges' Pick" episode in which the four judges (Neilson, Knight, Baker, Marcaida) each selected one smith from past seasons to compete again. The fifth season premiered on March 7, 2018. The sixth season premiered on February 6, 2019. The seventh season premiered on October 9, 2019, and expanded into May 6, 2020.  (Source: wikipedia.org)
The available balance is the balance in checking or on-demand accounts that is free for use by the customer or account holder. These funds are available for immediate use.  Any deposits, withdrawals, transfers, or other activity has already cleared to or from the account. A credit card account's available balance is normally referred to as available credit.  An account holder's available balance may be different from the current balance. The current balance generally still includes any pending transactions that haven't been cleared.  For this reason, the available balance is different from the current balance.  Account-holders can use all of the available funds listed.