Who is Luke Macfarlane?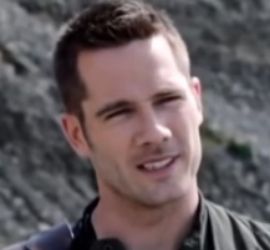 Luke Macfarlane is a Canadian-American actor and singer. He is known for playing Scotty Wandell on the ABC television drama Brothers & Sisters (2006–2011), RAC Agent D'avin Jaqobis on the Space television science fiction series Killjoys (2015–2019), and the romantic lead in a number of Hallmark Channel Christmas movies.
Early life and education
Thomas Luke Macfarlane was born on January 19, 1980, in London, Ontario. His late father, Thomas, was the Director of Student Health Services at the University of Western Ontario.  His mother, Penny is a mental health nurse at a London, Canada hospital. Macfarlane attended London Central Secondary School with a twin sister, Ruth, and their older sister, Rebecca. Macfarlane went to school in Lester B. Pearson School for the Arts, then later studied drama at Juilliard in New York City.
Personal life
Luke Macfarlane came out as gay during an interview with The Globe and Mail on April 15, 2008. In May 2018, Macfarlane became an American citizen. He is dating Wentworth Miller. (Source: en.wikipedia.org)
Luke Macfarlane – C

areer
Macfarlane had early supporting roles including PV2 Frank "Dim" Dumphy on the 2005 FX series Over There. Next, he played opposite Cynthia Nixon in Robert Altman's Sundance Channel miniseries Tanner on Tanner.  He also played the leading role in the two-part miniseries titled Iron Road.
Macfarlane's first notable role was as Scotty Wandell on ABC's Brothers & Sisters.  His character was husband to Kevin Walker (played by Matthew Rhys), one of the "brothers" of the show. Macfarlane's other notable television roles include Jason Howell in the Canadian sitcom Satisfaction and Rick Lincoln on NBC's The Night Shift.  He also played the character, Chaplain Hopkins, on PBS's Mercy Street,  and the starring role of D'avin Jaqobis in Syfy's Killjoys. (Source: ibid)
Hallmark Roles
Hallmark Movie count: 8
Following a stage career and a regular role in the ABC drama series Brothers and Sisters, Macfarlane joined the Hallmark family. He's appeared in eight movies so far for the network. Macfarlane seems to specialize in Christmas movies.  All but two (A Birthday Wish and Just Add Romance) of his films have been holiday-centric! His 2020 feature is Chateau Christmas, where he is paired with Merritt Patterson.  (Source: popsugar.com)
Stage Career
Luke Macfarlane was one of the four leads in Juvenilia at the Playwrights Horizons Theater from November 14–December 21, 2003. He played the lead role in the American premiere of the play Where Do We Live, staged at the Vineyard Theatre in May 2004. The production was cited by the 2005 GLAAD Media Awards for Outstanding New York Theatre: Broadway and Off-Broadway. He also appeared with Jill Clayburgh and Hamish Linklater in the off-Broadway production of The Busy World is Hushed.  The production was again at Playwrights Horizons, in Summer 2006. He reprised his role of Thomas for the L.A. Premiere at the Skirball Cultural Center from February 7–11 of 2007.
Macfarlane was part of the one-night celebrity performed staging of Howard Ashman's unproduced musical Dreamstuff. The musical was re-imagined by Howard's partners Marsha Malamet and Dennis Green and performed one night only at Los Angeles' Hayworth Theatre.  It was part of the Bruno Kirby celebrity reading series, directed by actor Michael Urie. Luke starred in the show alongside Eden Espinosa, Vicki Lewis, Fred Willard, and David Blue. Macfarlane starred in the world premiere of stage drama Reverberation in February 2015 at Hartford Stage in Connecticut. (Source: en.wikipedia.org)
Music career
Macfarlane was the lead singer and a songwriter for the band, Fellow Nameless.  It was formed in his 8th-grade year along with some of his classmates at Lester B. Pearson School for the Arts.  They originally chose the name Slipnaught. They randomly chose it from a dictionary because they did not have a name for the band when it came time to perform on stage. The name was changed mainly because the band members hated the original name.  Fellow Nameless was used while the musicians were attending London Central Secondary School. Fellow Nameless has produced one underground album.  It was a half-studio, half-live CD album.  Eventually, they recorded an additional ten songs that were never released, including three songs that were recorded for a development deal with Maverick Records.
The band played a showcase for Danny Strick A&R of Maverick Records. Unfortunately, in the end, they were passed over. Nevertheless, the London, Ontario, based band, later had two incarnations without Macfarlane as lead singer. The first reprise came in the second quarter of 2004 with the creation of Van A Primer and a new singer, Matthew Pearn. Their current version of the band has three of the remaining band members under the new band name of Cancel Winter. (Source: ibid)
Luke Macfarlane Quotes
"I think anytime as an actor you step out and choose to engage with the media in any sort of way that reveals your personal life, it can be frightening. However, I feel strongly that there is a distinction between revealing my sexual preference and my most private thoughts. My sexual preference is one irrefutable aspect of me, like the color of my skin. I've never been interested in revealing intimate details about my life. The concern with engaging with the media has to do with trying to make sure they will understand this difference." – Luke MacFarlane
"My reasons for coming out had less to do with whether the time was right for the industry and more about whether the time was right for me. It can be a very destructive force professionally and personally to get caught in the habit of making moves in alignment with Hollywood standards, which frankly have always been pretty unpredictable." – Luke MacFarlane
"I think it's important for any group to have a place where they can feel comfortable. Juilliard always felt like an open place for me and set me on the path that valued and encouraged self-knowledge. I wouldn't presume to offer advice to anyone else, and I know from personal experience that it's not everyone's path to step out." – Luke MacFarlane
Luke MacFarlane Zodiac
Macfarlane was born on January 19th.  That puts him under the sign of Capricorn, the Goat.  "Being a Capricorn born on January 19th, your personality is characterized by intelligence, discipline, and loyalty. Your mind is one of your greatest tools and you use it to effectively solve problems and meet challenges. Your strong mind is met with equally strong discipline and attention to detail. These qualities are admired by your friends, family, peers, and coworkers, but it may be your loyalty that is appreciated the most. Those closest to you would gladly admit that you are extremely dedicated in relationships. You may struggle to recall a situation where you did not have your loved ones' best interests at heart."  (Source: famousbirthdays.com)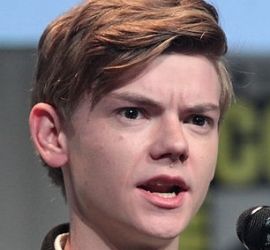 Thomas Brodie-Sangster was born on May 16, 1990, in London, England. He is an actor and producer, known for Maze Runner: The Scorch Trials (2015), The Maze Runner (2014), Love Actually (2003), and recently in the Netflix miniseries The Queen's Gambit (2020).
Thomas Brodie-Sangster is an English actor, born in Southwark, London, to Mark Sangster and Tasha Bertram. Brodie-Sangster's father's family is from Banchory, Scotland. And, he has a younger sister, Ava Sangster. Brodie-Sangster is a musician and plays bass and guitar.  He learned to play left-handed guitar to portray the left-handed Paul McCartney in the feature film Nowhere Boy. He also learned to play the drums for his role in Love Actually (2003).