Who Is Mckenna Grace?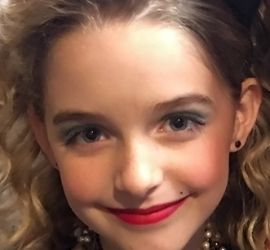 Mckenna Grace is an American actress.  She was born in Grapevine, Texas on June 25, 2006. She is best known for her work on Gifted (2017), I, Tonya (2017), and Annabelle Comes Home (2019).
McKenna Grace is also well known as an American child actress. She plays the role of Jasmine Bernstein in the series Crash & Bernstein, Faith Newman in The Young and the Restless (2013-2015), and Rose Harbenberger in Fuller House.  She starred as Penny Kirkman on the television series Designated Survivor from 2016 to 2019.
Mckenna Grace has appeared in films Suburban Gothic, Frankenstein, Independence Day: Resurgence, Amityville: The Awakening, Ready Player One, Captain Marvel, and more.
Mckenna Grace Acting Career
Television
She had a recurring role, as Faith Newman, on The Young and the Restless between 2013 and 2015. In 2015, she had a recurring role on the CBS series CSI: Cyber. Grace also had a guest role as young Emma Swan in the TV series Once Upon a Time.  She starred as Penny Kirkman (First Daughter) on the television series Designated Survivor from 2016 to 2019.
Film
Grace played the role of Daisy in the science fiction thriller Independence Day: Resurgence; the film, directed by Roland Emmerich, was released on June 24, 2016.  In 2017, Grace played the lead role of Mary Adler in the Marc Webb drama film Gifted (2017), starring alongside Chris Evans. She also played the significant role of Juliet in the horror film Amityville: The Awakening (2017) along with Bella Thorne.  She plays a young Tanya Harding in I, Tanya (2017).
Mckenna Grace Breakout Roles
Gifted (2017) – Mckenna Grace plays Mary Adler
The movie is from an original screenplay by Tom Flynn.  It is about a precocious young girl enrolling in first grade, much against her will.  This is because she happens to be an utter math whiz who prefers being home-schooled by her uncle Frank. Ensuing complications include a grandmother who feels the prodigy will be better off somewhere outside of Frank's grungy Florida shack.  Chris Evans is quite effective in the role of Frank.  He leads a mystifyingly carefree life repairing boats and looking after extremely adorable Mary (Mckenna Grace).  (Source: rogerebert.com)
Amityville: The Awakening (2017) – Mckenna Grace plays Juliet
Amityville: The Awakening is the latest installment of many movies in the Amityville horror franchise.  It ignores all the previous installments, instead following up where the 1979 original left off. There are flashbacks to the original murders, plus jump scares and other scary stuff.  There are blood stains, guns and shooting, stabbing, crashing through a window, creepy bugs, and arguing.  The film starts off with some good ideas and is a little better than most of the others in the series. (Source: commonsensemedia.org)
 I, Tonya (2017) – Mckenna Grace plays young Tanya Harding
I, Tonya is based on the true story of controversial 1990s figure skater Tonya Harding played by Margot Robbie. It's a dark comedy with plenty of mature content. Harding is serially abused by both her mother and her boyfriend/husband.  The scenes of abuse are depicted realistically and have intense emotional impact. Harding wasn't personally involved in the infamous, injurious leg-whacking.  But, she may as well have been, as her reputation and career were so irreparably damaged. She became a punchline, her name alone providing a bitter shorthand for scandal.  Director Craig Gillespie pulls off what would seem to be an impossible high-wire act.  He's made a movie that's affectionately mocking—of this theatrical sport, of the idiots who surrounded Harding, of this hideous moment in fashion and pop culture—without actually mocking Harding herself. (Source: ibid)
Annabelle Comes Home (2019) – Mckenna Grace plays Judy Warren
Ed and Lorraine resurface at the movie's beginning scenes.  They pick up the doll from the people who it haunted in prior installments.  Their fleeting appearance mainly serves to advance Annabelle's lore.  A spooky encounter with cemetery ghosts reveals that Annabelle herself isn't haunted.  Instead, the doll serves as a beacon for other spirits. That revelation provides enough information for the ensuing mayhem when Annabelle is liberated from the Warrens' cabinet later on.  The doll summons various other demonic spirits trapped within their home.  But Ed and Lorraine aren't around to deal with it. Instead, Annabelle Comes Home revolves around their middle-school daughter Judy (McKenna Grace), her babysitter Mary Ellen (Madison Iseman), and Mary Ellen's pal Daniela (Katie Sarife). (Source: indiewire.com)
Mckenna Grace Quotes
I want to be in a musical so badly! I want to do something where I can sing, I'd love that so much. It would be so fun! I think a dream of mine is to be a Disney Princess. Because you know they're doing all the live-action stuff now, so I'd love to be, like… I don't know, I could get a wig and be Rapunzel or something when I'm older! I have no idea, I'd just love to do anything in a live-action Disney movie, I think that sounds like so much fun. – Mckenna Grace
I did not know that much about it (Nasa's Golden Record). I felt like I had heard of it before, but didn't know a lot about it. It's really fun and cool to get to learn about something that seems like such a big part of history but you never even knew that it happened. It's fun getting to learn about that stuff, and it's one of the things I love about doing films that are based on real life. I can learn a lot about the time period the film is set in. – Mckenna Grace
Yes. I'm usually the only kid, so I get to make friends with adults, which is nice, but when I text them a bunch or try to call them, they don't respond as often as other children might. So it's very great to have those friends from Troop because we're all very close. – Mckenna Grace
Mckenna Grace Zodiac
Mckenna was born on June 25th.  That puts her under the sign of Cancer the crab.
JUNE 25 birthday horoscope predicts that Cancer zodiac sign individuals can sense when something is wrong. It's like you and crisis are drawn to each other. You have an unusual insight that more than likely came from being an observant learner. You have a psychic talent to see the unknown. Cancers like to be by yourself so, you sit, and you take note of your surroundings. You are highly thought of as you think before you speak making certain what you have to say has relevance and merit. (Source: sunsigns.org)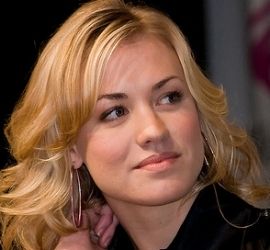 Yvonne Strahovski is an Australian actress. She plays Sarah Walker in the NBC spy series Chuck and Hannah McKay in the Showtime drama Dexter.
Yvonne Strahovski was born on July 30th, 1982, and raised in Australia. Her parents were Polish immigrants. She attended Santa Sabina College for her high school education. She then went on to study Performance at the University of Western Sydney's School of Contemporary Arts, graduating in 2003. Shortly afterward, she landed her first role on television in an episode of Double the Fist: Fear Factory (2004). Her next role was also on Australian television, appearing in several episodes of Headland (2005). In 2007, she made her big-screen debut in Gone (2006). This performance caught the attention of casting directors in Hollywood. She decided to move from Australia to Los Angeles.  Three days after her arrival in the USA, she landed her breakthrough role as Sarah Walker in Chuck (2007).