Who is Yvonne Strahovski?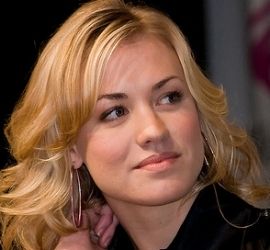 Yvonne Strahovski is an Australian actress. She plays Sarah Walker in the NBC spy series Chuck and Hannah McKay in the Showtime drama Dexter.
Yvonne Strahovski was born on July 30th, 1982, and raised in Australia. Her parents were Polish immigrants. She attended Santa Sabina College for her high school education. She then went on to study Performance at the University of Western Sydney's School of Contemporary Arts, graduating in 2003. Shortly afterward, she landed her first role on television in an episode of Double the Fist: Fear Factory (2004). Her next role was also on Australian television, appearing in several episodes of Headland (2005). In 2007, she made her big-screen debut in Gone (2006). This performance caught the attention of casting directors in Hollywood. She decided to move from Australia to Los Angeles.  Three days after her arrival in the USA, she landed her breakthrough role as Sarah Walker in Chuck (2007).
She is best known for her roles as CIA Agent Sarah Walker in the NBC spy drama series Chuck (2007–2012), Hannah McKay in the Showtime drama series Dexter (2012–2013), and CIA Agent Kate Morgan in the Fox event series 24: Live Another Day (2014). She stars as Serena Joy Waterford in the Hulu drama series The Handmaid's Tale (2017–present), for which she has received a Primetime Emmy Award nomination.
Strahovski's other notable works include Lego: The Adventures of Clutch Powers (2010), Killer Elite (2011), I, Frankenstein (2014), The Astronaut Wives Club (2015), Manhattan Night (2016), He's Out There (2018), and The Predator (2018). She also voiced Miranda Lawson in the Mass Effect video game series and Batwoman in the animated superhero film Batman: Bad Blood (2016).  (Source: imdb.com & en.wikipedia.org)
Yvonne Strahovski Early life
Strahovski was born in Werrington Downs, New South Wales, Australia.  She is the daughter of Piotr and Bożena Strzechowski.  Her parents emigrated from Warsaw, Poland. Her father is an electronic engineer, and her mother is a lab technician. Strahovski began acting lessons at age 12 and spent her high school years attending Santa Sabina College, Strathfield. She attended the University of Western Sydney's School of Contemporary Arts, graduating in 2003. Strahovski started acting in high school when she played Viola in the school production of Twelfth Night. She also appeared in film and television roles in Australia. Next, she appeared on the satire Double the Fist and as Freya Lewis in the Australian drama series HeadLand. She has also appeared in Channel Nine's Sea Patrol.
Strahovski sent in an audition tape for the TV series Chuck while in the United States.  She was there auditioning for roles in other shows including NBC's 2007 series Bionic Woman. She was contacted by the producers of Chuck the next day to come in and read lines. The producers called her back a week later to let her know she had been cast as Sarah Walker. Six months later, she moved to the United States permanently. Strahovski adopted the more phonetic spelling as her stage name at the time was Strzechowski.  She made this change for the sake of easier pronunciation and spelling. (Source: en.wikipedia.org)
Yvonne Strahovski Acting Career to 2011
Strahovski appears in Mass Effect Galaxy, Mass Effect 2, and Mass Effect 3 as the voice of Miranda Lawson. She had her face scanned and animated so she could portray Lawson in Mass Effect 2. Strahovski voices Aya Brea in the English version of the Parasite Eve spinoff, The 3rd Birthday.  It was released on March 2011 for the PlayStation Portable. She also appeared in a CollegeHumor sketch in April 2011, parodying the music styles of Katy Perry, Ke$ha, Lady Gaga, and Justin Bieber.
Strahovski appeared in the 2011 film Killer Elite, alongside Jason Statham, Clive Owen, and Robert De Niro.  She also appeared in the 2012 comedy The Guilt Trip, opposite Seth Rogen and Barbra Streisand. In 2010, Strahovski received the Teen Choice Award for Choice Action TV Actress for Chuck. Next, she was nominated for Spike Video Game Awards for Best Performance by a Human Female for Mass Effect 2. Strahovski was nominated again for the Teen Choice Awards for Choice Action TV Actress in 2011. Later that same year, Cosmopolitan Magazine (Australia) named Strahovski the Fun Fearless Female of the Year. (Source: ibid)
2011-2021
In November 2011, Strahovski was cast as the female lead in I, Frankenstein (2014). In March 2012, she was featured in a new SoBe Life commercial. And in May 2012, Strahovski ranked No. 35 in Maxim Hot 100. In June 2012, Showtime announced Strahovski had joined the cast for the seventh season of Dexter. Yvonne plays the role of Hannah McKay, a woman involved with an investigation following the death of her former lover, a spree killer whom she accompanied when she was a teenager. She reprised her role as Hannah McKay in the eighth season of Dexter.  In December 2012, she made her Broadway debut in a revival of Clifford Odets' Golden Boy, for which she won a Theatre World Award. Strahovski was honored along with Liam Hemsworth for their work in international roles with the 2012 Australians in Film Breakthrough Award.
In 2014, Strahovski joined Fox's TV series 24: Live Another Day cast as Kate Morgan, CIA agent. Later that year, she was cast as Rene Carpenter on the ABC limited series The Astronaut Wives Club. In 2016, she starred, along with Adrien Brody, as Caroline Crowley in the film noir Manhattan Night. She was featured in Maxim Hot 100 from 2009 to 2013. Since 2017, she has starred as Serena Joy Waterford in the acclaimed Hulu drama series The Handmaid's Tale. For her performance, Strahovski earned a Primetime Emmy Award nomination for Outstanding Supporting Actress in a Drama Series in 2018. (Source: ibid)
Yvonne Strahovski Quotes
"I was pretty nervous when I met Robert De Niro. I kind of felt like a kid in a candy store for the first time, couldn't wipe the grin off of my face. But Bobby DeNiro was really, really sweet and made me feel very comfortable. He's very low-key and just a superstar professional, and totally someone to be admired." -Yvonne Strahovski 
"I remember being at Greenblatt's on Sunset, and some guy just walked straight up to me, and he had some bling on and whatever, and said something about a party down in Malibu and asked if I would jump in his car and go to the party. All I could think was, "Who are you? I don't know you, and I don't care about how good your car is." -Yvonne Strahovski 
"I've been very physical my whole life. I went out hiking and camping for days in the Australian forest, and when I trained at drama school for three years, we did a whole lot on stage-fighting techniques. And I was a dancer from 5 to 18, so I have a memory for choreography." –Yvonne Strahovski 
Yvonne Strahovski Zodiac
Yvonne Strahovski was born on July 30th.  That puts her under the sign of Leo the lion. 
Being a Leo born on July 30th, you have a charming and lively personality. You are loyal to those close to you. But, also don't hesitate to punish anyone who might do something wrong to you or someone close. You have a lot of energy and can motivate yourself easily.  But, you should practice thinking about the future more. Get ready to understand yourself better below.  As a Leo born on July 30th, you are known for your sociability and independence. However, you love meeting new people and being in new situations.  Also, this is paired nicely with your natural inclination to claim the spotlight. As a natural leader, you can convince others to follow you and you are most comfortable in charge. Although those closest to you may feel you are bossy at times, their appreciation of your loving personality often outweighs this frustration. (Source: famousbirthdays.com & thehoroscope.com)
Yvonne Strahovski Net Worth
Yvonne Strahovski has an estimated net worth of $12 million. She earned her fortune by entertaining audiences with her acting performances on the screen and made for TV movies. (Source: celebritynetworth.com)
Husband & Children
At the 2017 Emmy Awards, Strahovski disclosed that she was married to Tim Loden, her accomplice of six years. Then, in May 2018, Strahovski reported she was anticipating their first child. Officially, she announced the birth of her first child through a post on Instagram in October 2018.  A boy named William. (Source: celebsupdate.com)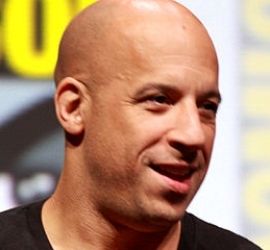 Extreme stuntman Xander Cage (xXx) is played by Vin Diesel.  The opening scenes find him on the verge of being arrested for another of his over-the-top stunts.  He becomes a spy when National Security Agency Spymaster Gibbons, played by Samuel L. Jackson, gives him the choice instead of going to jail. The Agency assigns Xander to a case involving a rather unpleasant group in Prague.  On the surface, the group appears to be involved in typical criminal activities like drugs and stolen cars. However, once Xander infiltrates, he uses every extreme sport in his effort to stop the bad guys.  It turns out, they are trying to release a lethal biological agent to random cities throughout the world.
When it comes to action sequences, there's no question that director Rob Cohen knows what he's doing. However, xXx follows a very basic pattern – chase, fight, exposition, rinse and repeat… But, the action sequences are top-notch.  Many of the things that xXx does with motor vehicles, boats, snowboards, even parachutes are riveting to watch.