Who is Titus Welliver?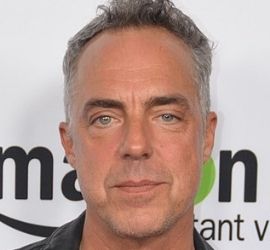 Titus Welliver was born on March 12, 1962, in New Haven, Connecticut. His father, Neil Welliver was a famous artist and landscape painter. His mother, Norma Cripps was a fashion illustrator. He has three brothers, one was killed overseas.  Titus grew up in Philadelphia and New York City, surrounded by poets and painters. He credits them for his creativity.
Originally, Titus wanted to follow in his father's footsteps and become a painter. But, he decided to pursue acting as his full-time career.   Nevertheless, he returns to painting whenever his acting career allows.  Titus is an acclaimed landscape painter and has shown his work at galleries and studios in Maine, California, and Connecticut.
Titus moved to New York in 1980 to learn his craft. He enrolled in classes at New York's HB Acting Studios while attending New York University. To support himself, Titus did a variety of jobs including bartender and construction worker. (Source: imdb.com)
Film
His first paid acting job was playing a redneck in the bar in Navy Seals (1990) with Charlie Sheen. He soon began to appear in movies, including JFK (1991), The Doors (1991), Mobsters (1991), Mulholland Falls (1996), Rough Riders (1997), Once in the Life (2000), Biker Boyz (2003), Twisted (2004), Assault on Precinct 13 (2005). He has been cast in all four of director Ben Affleck's films to date; Gone Baby Gone (2007), The Town (2010), Argo (2012) and Live by Night (2016). Other film roles include Man on a Ledge (2012) and Promised Land (2012).  He was also cast in director Michael Bay's film Transformers: Age of Extinction in 2014.
Stage
While appearing in movies, he continued to work in live theatre. He appeared in stage productions of Riff Raff, American Buffalo, Naked at the Coast, and Shakespeare's Henry IV Parts I and II.
Television
During the 1990s, he guest-starred on many TV shows like Matlock (1986), L.A. Law (1986), The X-Files (1993), and The Commish (1991), and appeared in many TV movies including An American Story (1992) and Mind Prey (1999). He had recurring roles on Murder One (1995) and High Incident (1996). Then he got a regular part on Steven Bochco's Brooklyn South (1997) as Officer Jack Lowery and played a recurring character on Bochco's and David Milch's NYPD Blue (1993). He also had starring roles on Big Apple (2001) and the second season of That's Life (2000) playing Dr. Eric Hackett opposite Paul Sorvino and Ellen Burstyn.
Welliver played The Representative in two episodes of Prison Break, portrayed Kyle Hollis (a.k.a. Reverend Orson Parker) in the NBC series Life, and appeared in the season five finale of Lost as the Man in Black, which he continued to portray during the sixth and final season. In 1999 he appeared in an episode of Touched by an Angel titled The Occupant, where he played a man who was occupied by a demon. He guest-starred on other TV shows including Law & Order (1990), Jericho (2006), and NCIS (2003).
Notable recurring roles
Titus Welliver is well known for playing the semi-regular character Silas Adams on the HBO series Deadwood.   He was introduced into FX's Sons of Anarchy midway through season two, in which he portrays Irish gun kingpin Jimmy O'Phelan. In 2009, he started playing the role of Prosecutor Glenn Childs, a rival of Chris Noth's character, in the CBS series The Good Wife. He joined the cast of the apocalyptic drama The Last Ship in a recurring role for its first two seasons, as Thorwald, a local warlord fighting underground in a dying world infected by a global pandemic.  He also had recurring roles on CSI: Crime Scene Investigation (2000), Touch (2012),  The Last Ship (2014), Suits (2011), and Agents of S.H.I.E.L.D. (2013), but also appeared in The Mentalist  (2008) and White Collar (2009).
Titus Welliver recently plays the title role of LAPD Homicide Detective Harry Bosch in the TV series Bosch from Amazon Studios. The series is based on the novels centered on the character of the same name by Michael Connelly. The first season of the series was released on Amazon Prime Video on February 13, 2015. The series was renewed for a seventh and final season on February 13, 2020. (Source: imdb.com & en.wikipedia.org)
Titus Welliver – Artist
Titus Welliver's father was Neil Welliver, an accomplished contemporary landscape painter.  Young Titus started formal art training with his father at age 12.  He went on to continue his art studies at Bennington College and the University of Pennsylvania.  He later went on to study theatre at NYU Tisch School of the Arts in New York, New York.
In addition to his significant career as an actor in theatre, films, and television, Welliver returned to painting at various times in his career. He has exhibited in New York and Los Angeles. Titus Welliver has shown with Frank Pictures Gallery in Los Angeles, the 10 High Street Gallery in Camden, Maine, The Center for Maine Contemporary Art in Rockland, Maine, the Tremaine Art Gallery at the Hotchkiss School, Lakeville, Connecticut, and Susan Mash Fine Art in Portland, Maine. Titus has a painting studio in Connecticut where he is continually inspired by day and night light and the nature of the Northeast. He paints in acrylic and his paintings are described as moody yet inviting.  (Source: stewartstewart.com)
Quotes from Titus Welliver
"We own 10 acres of land, but that's more than enough, and the few neighbors we have there's kind of an open-door policy — people walk around on each other's land, and we roam freely in the woods.  I can walk and not get anxious if I'm crossing over some stone wall and somebody is going to scream and yell at me and call the state police because I'm on a piece of their land." – Titus Welliver
"…95 percent of the food we eat is locally sourced. I have a lot of farmers who are my friends in the area who have vegetable farms, have livestock farms. I can buy raw milk from one of my neighbors and I can buy my vegetables from another neighbor who is the town selectman. And, I can get my beef and eggs and chicken and sheepskin and everything you can possibly imagine."– Titus Welliver
"We're central to a lot of outdoor activity. Particularly in the summertime, we spend most of our time outdoors. Mohawk State Forest is right near my house. We go swimming over there in Mohawk Pond. There are great trails; they go all over the place and are very close to our house." – Titus Welliver
Titus Welliver – Net Worth
Titus Welliver is an American actor and painter who has a net worth of $4 million (2021). (Source: celebritynetworth.com)
Is Titus Welliver married? 
His relationship status in 2021 is listed as single.  However, Welliver has been married five times. His marriages to Heather Wielandt, Hollywood talent agent Dani Sexton and actress Joanna Heimbold ended in divorce. He was widowed when his fourth wife, film producer Elizabeth W. Alexander, died of breast cancer in 2012.  He married Jose Stemkens, a Dutch fashion consultant and former model, in 2014. Welliver filed for divorce from Stemkens in May 2019. (Source: en.wikipedia.org)
Does Titus Welliver have children?
He has a daughter with Elizabeth Alexander and two sons with Joanna Heimbold. (Source: ibid)
What is Titus' Zodiac sign?
Titus Welliver was born on March 12th.  That makes him a Pisces.  "Being a Pisces, you are half perfectionist, half dreamer, therefore you attempt a lot of things and set big goals, but in the end, you go with your intuition. Family is both a great support system and a distraction for you. Dating may be exciting but once love-struck, you simply become another person, so much that even friends don't really recognize you anymore." (Source: thehoroscope.co)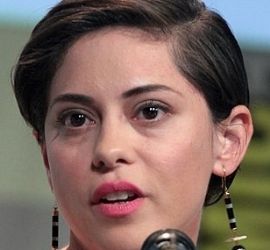 Rosa Bianca Salazar is an American actress born in British Columbia, Canada on July 16, 1985.  However, she was raised in Greenbelt, Maryland USA. She is best known for her role in the NBC series Parenthood (2010) and the FX anthology series American Horror Story (2011).
Salazar is of Peruvian and French descent. She grew up in Washington, D.C., and nearby Greenbelt, Maryland.  She attended Eleanor Roosevelt High School and was active in the school theatre program. At the age of 15, she moved to New York City.  In New York, she worked with CollegeHumor appearing in several sketches. She relocated to Los Angeles in 2009 and shortly after landed recurring roles on two hit TV series: Parenthood (2010) and American Horror Story: Murder House (2011).