Who is Rosa Salazar?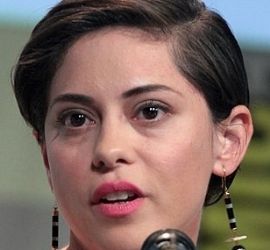 Rosa Bianca Salazar is an American actress born in British Columbia, Canada on July 16, 1985.  However, she was raised in Greenbelt, Maryland USA. She is best known for her role in the NBC series Parenthood (2010) and the FX anthology series American Horror Story (2011).
Salazar is of Peruvian and French descent. She grew up in Washington, D.C., and nearby Greenbelt, Maryland.  She attended Eleanor Roosevelt High School and was active in the school theatre program. At the age of 15, she moved to New York City.  In New York, she worked with CollegeHumor appearing in several sketches. She relocated to Los Angeles in 2009 and shortly after landed recurring roles on two hit TV series: Parenthood (2010) and American Horror Story: Murder House (2011).
She made her breakthrough and may be best known for portraying the title character in the film Alita: Battle Angel (2019).  Rosa is currently starring in the Amazon Prime series Undone (2019–present).
Film roles:
Maze Runner: The Death Cure – Twentieth Century Fox (2018), CHIPS – Warner Bros. (2017), Maze Runner: The Scorch Trials – Twentieth Century Fox (2015), The Divergent Series: Insurgent– Summit (2015), Search Party – Focus (2015), and Night Owls – Orion (2015). She also appears in the Netflix films The Kindergarten Teacher (2018) and Bird Box (2018).
Television roles: 
NBC series Parenthood (2011–2012) and the FX anthology series American Horror Story: Murder House (2011).   She currently stars in the Amazon Prime series Undone (2019–present).   (Source: imdb.com & en.wikipedia.org)
Rosa Salazar – Defining Roles
Maze Runner: The Death Cure (2018)
Salazar plays a mostly character role with a memorable face.  A team of scientists led by the coolly minimalist Ava Paige (Patricia Clarkson) and a team of law enforcement agents led by the relentlessly evil Janson (Aidan Gillen) maintains control of the imposing Last City. Simultaneously, they're still rounding up all the remaining children and performing experiments on them to see who is immune and can provide a serum to cure this decimated world of the zombie plague.  The man at the center, O'Brien, remains hardworking, but at least he's got compelling figures surrounding him to help him sneak inside and burn it all down. They're mostly character actors with intriguing screen presences and captivating faces: Rosa Salazar, Giancarlo Esposito, Barry Pepper, Thomas Brodie-Sangster, Ki Hong Lee, Dexter Darden, and an almost unrecognizable Walton Goggins. They are overqualified for this noisy nonsense. (Source: rogerebert.com)
Alita: Battle Angel (2019) – Rosa Salazar is Alita
Rosa Salazar plays the starring role of the title character Alita.  She is a mysterious yet powerful teen girl bot with oversized anime-style eyes and a good and very powerful heart that could power a city. Alita is the last of her kind, a superior enemy who was somehow defeated by the humans. After she is found in a scrap heap, Alita is brought back to life with the help of a fatherly doctor, Dr. Ido (Christoph Waltz).  The paternal relationship gives the movie some of its stranger moments. More straightforward is the relationship Alita has with a secret nemesis, Chiren (Jennifer Connelly), Dr. Ido's former wife.  The character Vector (Mahershala Ali), is a smooth-talking kingpin who promises almost anyone who will listen to him a ticket to Zalem, the city hovering in the sky holding society's upper class over the heads of the poor below. (Source: rogerebert.com)
Undone – Amazon Prime series (2019–present)
Rosa Salazar stars as Alma, the lead character.  Animated sci-fi drama Undone was produced with the technique known as rotoscoping.  Animators paint over the performances of flesh-and-blood actors using a variety of art styles. The show's troubled heroine Alma (Rosa Salazar) goes through the drudgery of her everyday life.  Then, she gets caught up in something more cosmic.  It's the kind of show that's so lush and detailed you may be inclined to pause the action just to enjoy the compositions.  The show is directed by Hisko Hulsing and created by the European animation studio Submarine. It's a marvelous achievement in design and among the most visually stunning things, you'll see on television this year. (Source: rollingstone.com)
Quotes from Rosa Salazar
"Everything was an escape for me when I was younger. I had a tumultuous home life thanks to the unsavory characters my mom would marry. My brother just sort of evaded, and my dad lived far away, so I was left alone." – Rosa Salazar
"I was emancipated at 15. I went to school and had a full-time job and apartment, and ever since, I've been on my own, parenting myself." – Rosa Salazar
"In my entire life, I have ten people that are the closest people to me. They're my family, and I really don't mesh worlds that often." – Rosa Salazar
"…I'm always grateful to be hired, especially as a Latin woman in this business… And I'm always grateful when the most essential part of my character isn't that she's Latin." – Rosa Salazar
Frequently Asked Questions
What is Rosa Salazar's net worth?
As of 2021, Rosa Salazar's net worth is $4 million.  (Source: wealthygorilla.com)
Is Rosa Salazar Married? 
As of 2021, Rosa is single.  However, in Night Owls, she starred alongside Adam Pally.  Salazar says she considers him her 'work husband': "He's like my work husband and he's so funny. We're about to do another movie by the same director and writer of 'Night Owls.' We love working with each other, and that's all you really want to do, right? Be around the Adam Pallys of the world." – Rosa Salazar
What is Rosa Salazar's Zodiac Sign?
Rosa was born on July 16, 1985.  That makes her zodiac sign Cancer.    Being a Cancer born on July 16th, you have an emotional and inquisitive nature. You don't want to be labeled and often need your own space. You have this inclination towards family life from a young age even if at times you don't realize it. A lot of your decisions in life will be guided by those close to you and the impact they might have on them. You are an emotional individual with meaningful insight into life and quite homebound.   (Source: thehoroscope.co)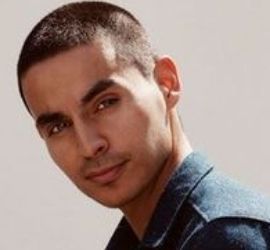 Manny Montana plays the notorious gang member Rico in the Netflix series Good Girls.  The tattoo-covered criminal is a first-generation Mexican-American who is also bi-lingual.  He speaks fluent English and Spanish. So, who is Manny Montana?  How old is he?  Is he married?
Manuel Garcia Martinez  was born September 26, 1983.  He was born and raised in Long Beach California where he was also raised.  Manny graduated from Jordan High School.  He moved on to attend California State University Sacramento on a football scholarship.  Unfortunately, he was forced to quit football after multiple injuries to his arm and shoulder.  Manny returned to Long Beach and was accepted by CSU Long Beach. The star majored in Journalism and Broadcasting and was a part of the University's radio station.