Who is Elizabeth Lail?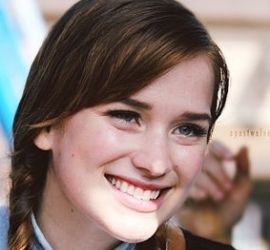 Elizabeth Dean Lail is an American actress born on March 25th, 1992. She is known for her role as Anna in the ABC adventure fantasy television series Once Upon a Time.  Lail was born in Williamson County, Texas.  But, she grew up in Asheboro, North Carolina.  Her father is Dean Franklin Lail and her mother is Kay Lurene Surratt. She has one older sister, Kathryn Dean Lail.  After graduating from Asheboro High School in 2009, she attended the University of North Carolina School of the Arts. She graduated in May 2014.
Elizabeth Lail – Acting Career
After graduating from university, Lail mostly worked in student film productions, such as Model Airplane and Without. Eventually, she moved to New York City to pursue stage work when she landed an audition for ABC's Once Upon a Time.  Elizabeth was cast as Anna in the fourth season of the series. Next, she was cast in a starring role in the Freeform horror series Dead of Summer playing the role of camp counselor Amy. In July 2017, Lail was cast as the female lead in the Lifetime/Netflix television series You opposite Penn Badgley and Shay Mitchell. Lail plays the character, Guinevere Beck, while Badgley plays Joe Goldberg.  Mitchell plays Guinevere's best friend, Peach Salinger.
Elizabeth Lail was nominated for Best Actress in a Streaming Presentation at the 45th Saturn Awards. In October 2019, Lail confirmed in an interview that she will reprise her role as Guinevere Beck in a guest appearance on the second season of You. Later in 2019, Lail played the lead in the horror film Countdown. (Source: imbd.com & en.wikipedia.org)
Elizabeth Lail – Defining Roles
Dead of Summer (2016)
In the Dead of Summer, long-closed Camp Stillwater opens, years after the terrible tragedy that left everyone at the camp dead. Now, new camp owner Deb Carpenter (Elizabeth Mitchell) has sunk everything she owns into bringing the camp back to life. Joining her are her new crew of counselors including Amy (Elizabeth Lail). The story follows the group of camp counselors who stumble into a small town teeming with demon worshippers and disgruntled ghosts. They all have their secrets and their hopes for what the summer will bring. But, the teens are quickly plagued by nightmares that stir up both their own individual demons and create encounters with the haunted spiritual plane of the cursed Lake Stillwater. Quickly, the bodies mount up and an unearthly horror takes hold at Camp Stillwater.  It looks like the counselors are in for a more exciting summer than they bargained for. (Source: commonsensemedia.org & variety.com)
You (2017)
You is an American psychological thriller television series.  It is based on the 2014 novel You, by Caroline Kepnes.  The first season of You follows Joe Goldberg (Penn Badgley) as a brooding bookseller who becomes obsessed with customer and aspiring author Guinevere Beck (Elizabeth Lail). It turns out Joe is a serial killer who falls in love with Guinevere and quickly develops an extreme, toxic, and delusional obsession. Joe will do whatever it takes to get and keep, Beck.  Even if this includes killing her lover and her suspicious friend. (Source: oprahmag.com)
Countdown (2019)
Countdown is a horror film about a phone app that can supposedly tell you the exact moment when you are going to die.  As the film opens, a bunch of college kids at a party stumble upon an app that promises to reveal when you will take your last breath and leave this mortal world behind. Unfortunately for one coed, her countdown is scheduled to end in a couple of hours.  She tries to avoid the obvious dangers like not getting into the car with her super-drunk boyfriend driving.  But, things inevitably do not end well for her.
Meanwhile, at a local hospital, new nurse Quinn Harris (Elizabeth Lail) is informed of the app by that drunken boyfriend.  Yes, he did crash his car and his own countdown is imminent.  Nurse Quinn eventually downloads the app herself, only to learn that she has a date with the Grim Reaper in less than two days. She initially tries to dismiss it.  But, the drunk boyfriend dies suspiciously and she is unable to remove the app from her phone.  Of course, she begins to suspect that it's real and that she's going to die unless she can figure a way out. The rest of the film is a race against the time clock.  (Source: rogerebert.com) 
Quotes from Elizabeth Lail
"I could have never, ever imagined that I would be doing this, with this show, playing this character that was created in a cartoon version. It's just been the most exciting time of my life."– Elizabeth Lail
"You know I definitely think it's important for us to represent female sexuality because I know for me it feels as if it's not talked about. It's as if it's dirty or something we don't do. So I think it's great to represent that and hopefully paint it in a positive light."– Elizabeth Lail
"Well, most of my friends spend most of the show yelling at my character – they are very frustrated with her! I find with fans there are all kinds of reactions; there are the people who want Beck and Joe to be together and then there are the people that find Beck really annoying. And then there are the sensible ones who think Joe is the psychopath."– Elizabeth Lail
What is Elizabeth Lail's Zodiac Sign?
Elizabeth Lail was born on March 25.  That puts her under Aires the Ram.    "If you were born on March 25, you are a special person. According to your astrological chart, you possess some qualities that are not common. For example, you are very passionate and practical. The combination of these qualities makes you reliable in your community. Your astrological symbol is Ram. This symbol plays a major influence on those born between March 21 and April 19. It has empowered you to be creative and determined in life. The planet Mars exerts a lot of influence on the lives of people born on March 25. As such, you are inspired, dynamic, and romantic. The cardinal governing element in your life is Fire. This is the symbol of strength and passion. It enables you to be warm and enthusiastic about your environment."  (Source: thesecretofthetarot.com)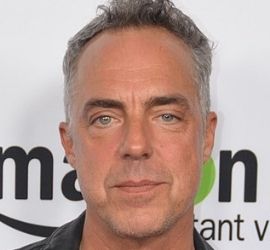 Titus Welliver was born on March 12, 1962, in New Haven, Connecticut. His father, Neil Welliver was a famous artist and landscape painter. His mother, Norma Cripps was a fashion illustrator. He has three brothers, one was killed overseas.  Titus grew up in Philadelphia and New York City, surrounded by poets and painters. He credits them for his creativity.
Originally, Titus wanted to follow in his father's footsteps and become a painter. But, he decided to pursue acting as his full-time career.   Nevertheless, he returns to painting whenever his acting career allows.  Titus is an acclaimed landscape painter and has shown his work at galleries and studios in Maine, California, and Connecticut.