Who is Dean-Charles Chapman?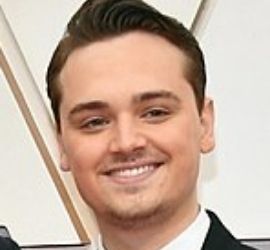 Dean-Charles Chapman is a British film, stage, and television actor.  He is best known for 1917 (2019) Before I Go to Sleep (2014), and Game of Thrones (2011). He was born on September 7, 1997, in Romford, England, and raised in nearby Essex.
At the age of eight, Chapman was cast as Small Boy in Billy Elliot the Musical.  He would later be promoted to the roles of Michael and finally the star character.  He became the second-longest-running cast member in the production. During his time on Billy Elliot, he worked alongside future Spider-Man actor Tom Holland.  Chapman had the opportunity to meet U.K. Prime Minister Gordon Brown with several other young actors in the play.
Soon after leaving Billy Elliot, Chapman was cast on the CBBC sitcom The Revolting World of Stanley Brown in the lead role.  His co-star was fellow future Game of Thrones and Blinded by the Light co-star Nell Williams. The show lasted for one season. He made his film debut in the 2014 film Before I Go to Sleep, with Nicole Kidman and Colin Firth.
Dean-Charles Chapman Career
After playing the minor role of Martyn Lannister in the third season of Game of Thrones, he replaced Callum Wharry in the major role of Tommen Baratheon, the young king of Westeros for the fourth, fifth, and sixth seasons of the show. With the rest of the cast, he was nominated for a Screen Actors Guild Award. In 2018, he played the role of Castor in the AMC series Into the Badland for seven episodes, followed by a supporting role in the film Blinded by the Light.
In 2019, he was cast, alongside George MacKay, as one of the two leads in the Sam Mendes-directed war film 1917. The film went on to receive ten Academy Award nominations, winning three. Subsequently, he played the lead role of Matthew in Eoin Macken's drama Here Are the Young Men, supported by Finn Cole, Anya Taylor-Joy, and Ferdia Walsh-Peelo. (Source: en.wikipedia.org)
Dean-Charles Chapman Defining Roles
Here Are the Young Men (2020) Dean-Charles Chapman plays Matthew
The film is based on Rob Doyle's 2014 novel and set in Dublin in 2003.  The film version follows three best friends as they leave school, eager to embrace a summer of sex, drugs, and irresponsibility. Alpha male Kearney (Finn Cole) is a big influence on a trio that includes the sensitive Matthew (Dean-Charles Chapman) and withdrawn, depressed-seeming Rez (Ferdia Walsh-Peelo). It is Matthew who provides the intermittent voice-over narration as he anticipates a final summer of freedom when you become a man. Anya Taylor-Joy makes an appearance as Matthew's girlfriend Jen.  Growing up is hard to do, especially when you are an impressionable teenager with conflicting notions of what it means to be a man. The film shines a harsh light on toxic masculinity at its most immature. (Source: screendaily.com)
1917 (2019) Dean-Charles Chapman plays Lance Corporal Thomas Blake
1917 is set amidst the turmoil of World War I.  It takes place in and around the so-called no man's land in northern France separating British and German troops. Two young corporals, Blake (Dean-Charles Chapman) and Schofield (George MacKay) are awoken from what could have only been a few minutes of sleep.  They are ordered to report for a new assignment. A few miles away, another company, one that includes Blake's brother, has planned an attack.  It is to commence in a few hours designed to push the Germans back even further following a recent retreat. However, recent intelligence suggests that the retreat is a ruse.  It will land them in an ambush that will cost thousands of British lives. (Source: rogerebert.com)
Blinded by the Light (2019) Dean-Charles Chapman plays Matt
Set in the 1980s in the small town of Luton, Javed's family struggles to make ends meet.  It is the crushing recession of the late Thatcher era, battling economic strife, rising nationalism, and racist attacks. Javed's mother (Meera Ganatra) works out of their home as a seamstress.  His father (Kulvinder Ghir) works at a nearby factory. Layoffs loom. Parental expectation weighs heavily on Javed.  He hides not just his dream of being a writer from his parents, but almost every other aspect of his personality. He's not allowed to have a social life, a girlfriend, or independence.  His best friend Matt (Dean-Charles Chapman) is swept up in the New Wave scene. Javed writes lyrics for Matt's songs, feeling frustrated and trapped. (Source: ibid)
Dean-Charles Quotes
I had a big sister that was two years older than me and she joined a theater school called Colin's Performing Arts. In that theater school, there was an acting agency. And the acting agent asked my mom "Do you want to put Dean into it?" I was four at the time, I don't really remember but apparently, I said yeah. I joined the acting agency, and pretty much as soon as I joined my big sister quit because she didn't really like auditions or anything like that – she was a bit of a shy person. Somehow I carried on. – Dean-Charles Chapman
I learned a lot from Billy Elliot, I probably learned all the basics of acting. The theater is a really good starting point as an actor. I did it for years. When I was seven, I played a small role called Small Boy for about a year and a half, and then I played Michael which is Billy's best friend, for six months. Once I was playing Michael I was training for Billy, and then played Billy for two years. My last month as Billy, they had to do an EPK for Billy to promote it, so they chose me. They put big cameras on cranes in the theater and I basically had to redo certain scenes from the show but on camera, and that was the moment I was like "Oh my God. I love film, I want to be a film actor." – Dean-Charles Chapman
I've never really had to do as much research before like I did in 1917 for anything else. I really enjoyed the research of the period. We went to France and Belgium, we actually stood where No Man's Land would've been and I actually found a piece of shrapnel on the floor in the mud. The filming of it was really amazing, we filmed it in one continuous take. I think the longest scene we did was nine minutes long. As an actor, not a lot of people film films in these ways before. Doing that is a real privilege and I loved every minute of it. It genuinely felt like a piece of theater, a real collaboration rather than separate departments on a film set. When we got the take right and everything fell into place it was honestly the best feeling ever. – Dean-Charles Chapman
Dean-Charles Zodiac
Dean-Charles Chapman was born on September 7th.  That puts him under the sign of Virgo
SEPTEMBER 7 birthday horoscope predicts that you are likely a critical but practical person. You can be shy and very conservative. On the other hand, you can be cruel! But in a good way.  The September 7 birthday personality is interesting. Smart, confident, and also sensitive make you a great catch. Being an organizer, you can be a proud Virgo. You are a go-getter who is usually aware of your surroundings. Often, you manage to stay tough but are really passionate. However, you are not likely to show your emotions as you have to be the stronger or bigger person. As a result, it's normal for you to want control and unfortunately, your partner will want it too. (Source: sunsigns.org)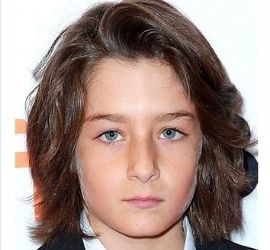 Sunny Suljic is an American child actor and skateboarder. He is known for The Killing of a Sacred Deer (2017), Mid90s (2018), Don't Worry, He Won't Get Far on Foot (2018), and The House with a Clock in Its Walls (2018).  Suljic also did voice work and motion capture for Atreus, the son of Kratos in the 2018 video game, God of War. His acting debut was in the short film Ruined (2013).
Sunny Suljic was born on August 10, 2005.  He is an American child actor and skateboarder. He is known for his roles as Bob in Yorgos Lanthimos's 2016 drama The Killing of a Sacred Deer and as the voice and motion capture actor for Atreus, the son of Kratos in the 2018 video game, God of War for which he was nominated for the BAFTA Award for Best Performance in a Video Game. Suljic had his first lead role in Jonah Hill's film Mid90s, also in 2018.