Who is Jessica Parker Kennedy?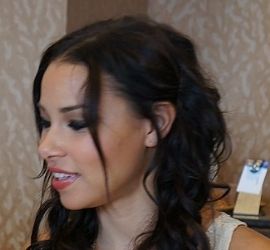 Jessica Parker Kennedy is a Canadian actress born on October 3rd, 1984. She played Melissa Glaser on the CW series The Secret Circle, Max on the Starz original series Black Sails, and Nora West-Allen / XS on The Flash.  Her first acting role was in the 2006 television movie, Santa Baby in which she played Lucy the elf. The following year, she was cast in her first TV show role as Natalee in Kaya. She has also appeared on the television series Smallville and Undercovers.
Jessica was born in Calgary, Alberta Canada to mother Toni Kennedy. She is of Canadian nationality and her ethnicity is mixed-African, Russian, and Italian descent. Raised by a single mom, Jessica relocated many times while growing up. She is an only child and has never given up much information publicly about her father.  She gives credit to her mother for the way she was raised and for always being supportive.
Jessica Parker Kennedy Education and Early Career
Jessica started acting at an early age of 7 during which she acted in many local theater productions.  The Canadian actress attended French immersion school from where she also completed her 12th grade. She later attended the Mount Royal College in Calgary, where she studied theatre arts.
Kennedy's first screen work began with the television film, Santa Baby (2006), as Lucy the Elf.  She reprises the role in the television film sequel, Santa Baby 2: Christmas Maybe (2009). Jessica's continued her work in television with appearances in series such as V (2009), Undercovers (2010), and Smallville (2001). She made several supporting role appearances in television-made features, including Behemoth (2011) and Collision Earth (2011). Kennedy portrayed supervillain Plastique in the television series Smallville, the role of Tami in the 2008 comedy film Another Cinderella Story, and the recurring character of Natalee on the 2007 television series Kaya on MTV.
Kennedy has also appeared in high-profile movies, such as the biographical comedy 50/50 (2011), starring rising stars Joseph Gordon-Levitt, Seth Rogen, and Anna Kendrick. She also had a role in the action film, In Time (2011), starring Justin Timberlake and Amanda Seyfried. Jessica is probably best known for her roles in Smallville and, more recently, playing the character Melissa Glaser in the supernatural drama, The Secret Circle (2011) until the show was canceled after one season in May 2012.
She can be seen in the hit STARZ show, Black Sails (2014), and appears in The Perfect Guy (2015) with Michael Ealy (2015).  In 2017, Kennedy joined the CW's Arrowverse, appearing primarily on the live-action series The Flash. Her character appeared throughout the fourth season and was eventually revealed as Nora West-Allen.  She was promoted to series regular for the fifth season using the superhero name XS.   (Source: imdb.com & en.wikipedia.org)
Jessica Parker Kennedy Trivia
Jessica Parker Kennedy is also a trained singer and splits her time between Vancouver and Los Angeles.
Kennedy ranked #94 on Maxim's "Hot 100" of 2014 list. She is of Italian, Russian, and African descent.
She was originally cast in the 2010 spy drama series Undercovers as the younger sister of the female lead but was later replaced by Mekia Cox.
Jessica Parker Kennedy Defining Roles
Smallville 2001
Jessica Parker Kennedy plays Bette Sans Souci, Plastique.
It's been 18 years since a meteor shower rained down on Smallville, Kansas, dropping off little Clark Kent (Tom Welling) in a spaceship and altering the small town forever. SMALLVILLE tracks Clark Kent and friends — including pretty Lana Lang (Kristin Kreuk) — through high school and into college. During these young-adult years, Clark discovers details about his own history, as well as the fate of his home planet and his biological parents.
Better yet, he furthers his journey toward fully realizing his superpowers. Meanwhile, Lex Luthor (Michael Rosenbaum), once Clark's best friend, gives in to the dark side. Kent's later move to the big city of Metropolis leads to a budding relationship with Lois Lane (Erica Durance), interactions with the Green Arrow (Justin Hartley), and the introduction of new foes, including Lex Luthor's half-sister, Tess Mercer (Cassidy Freeman).  (Source: commonsensemedia.org)
The Secret Circle 2011
Jessica Parker Kennedy plays Melissa
Cassie Blake (Britt Robertson) is an average teen whose world is rocked when a fire kills her mother and forces her to move into her grandmother's house in a small Washington town. Soon after she arrives, she learns that she's part of a coven of witches whose power is complete now that she's in the presence of her new peers, Diana (Shelley Hennig), Faye (Phoebe Tonkin), Melissa (Jessica Parker Kennedy), Adam (Thomas Dekker), and Nick (Louis Hunter).
When she finds a letter from her mother confirming her identity, Cassie is drawn into a world of powers, curses, dangerous adversaries.  There are long-hidden secrets about hers and all of the families in Chance Harbor. Things get more complicated with the arrival of Jake (Chris Zylka), who brings his own mysterious past to the mix, and later the return of Cassie's father, John Blackwell (Joe Lando), who has his own set of secrets to keep. (Source: commonsensemedia.org)
Black Sails 2014
Jessica Parker Kennedy plays the character, Max. 
Black Sails is ostensibly a prequel to Robert Louis Stevenson's Treasure Island. Captain Flint drives his pirate crew of thieves, backstabbers, and brawlers to the point of mutiny. Flint's obsession is his hunt for gold-laden galleon the Urca de Lima. A two-legged John Silver is the only person who knows the route the Urca is taking, so he uses this leverage to work his way up the pirate ranks.  Most of the action is centered around the Bahamas port of Nassau,  The series centers on a group of pirates operating out of Nassau in the Bahamas.  (Source: theguardian.com)
Quotes from Jessica Parker Kennedy
"I'm not technically on the pirate ships. I do a lot of wheeling and dealing from the brothel. But I'm not in the brothel all the time, either. I'm around and about. But I have this fantasy that I'm going to turn into this really badass pirate, living on the ship and killing really smarmy men."– Jessica Parker Kennedy
"I'm grateful for my mother. I'm an only child raised by a single mom. She was a teacher but she's retired now.  She's always been really supportive of what I wanted to do when other people were like, 'Oh my God, your child wants to be an actor—good luck with that.' She would say, 'No, let her do it!'"– Jessica Parker Kennedy
"I used to think being a pirate was a really, cool, sexy thing. It's not. It's terrifying and a really horrifying, filthy, scary world where people died from simple things. When a cannon goes off, the splinter from the wood gets in their eyes and they get an infection. Or they don't have enough to eat. Or they get scurvy. It's a terrifying way to survive."– Jessica Parker Kennedy
Jessica Parker Kennedy – What's Her Zodiac Sign?
Elizabeth Lail was born on October 3rd.  That makes her a Libra.  'Being a Libra born on October 3rd, your selflessness, thoughtfulness, and seriousness are amongst your most well-known characteristics. Although you do have a sense of humor, you take life very seriously and make goals that you truly intend to meet. You are most comfortable in a social setting and will go to great lengths to provide your friends with help and support. This quality is greatly appreciated by your friends and family, who often turn to you with their problems. Your considerate and humanitarian demeanor could be a perfect fit for careers such as teaching, fund-raising, social work, or other non-profit positions. Strong will-power and discipline may take you on a path of law, where you can also use your skills to help others. If the entertainment world is appealing, you may pursue acting…"  (Source: famousbirthdays.com)
Is Jessica Parker Kennedy Married?
Jessica lists her status as a single and has never been married.  However, in 2014 it was rumored that the Canadian actress was in an affair with her co-star, Luke Arnold from Black Sails. The celebrities' numerous photos at different places of Vancouver led the world to believe that the two were a thing.  But, the duo never confirmed their relationship. (Source: usanewscourt.com)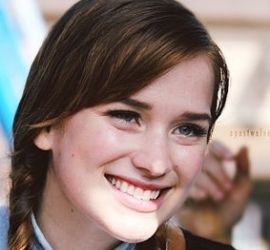 Elizabeth Dean Lail is an American actress born on March 25th, 1992. She is known for her role as Anna in the ABC adventure fantasy television series Once Upon a Time.  Lail was born in Williamson County, Texas.  But, she grew up in Asheboro, North Carolina.  Her father is Dean Franklin Lail and her mother is Kay Lurene Surratt. She has one older sister, Kathryn Dean Lail.  After graduating from Asheboro High School in 2009, she attended the University of North Carolina School of the Arts. She graduated in May 2014.
Elizabeth Lail – Acting Career
After graduating from university, Lail mostly worked in student film productions, such as Model Airplane and Without. Eventually, she moved to New York City to pursue stage work when she landed an audition for ABC's Once Upon a Time.  Elizabeth was cast as Anna in the fourth season of the series. Next, she was cast in a starring role in the Freeform horror series Dead of Summer playing the role of camp counselor Amy. In July 2017, Lail was cast as the female lead in the Lifetime/Netflix television series You opposite Penn Badgley and Shay Mitchell. Lail plays the character, Guinevere Beck, while Badgley plays Joe Goldberg.  Mitchell plays Guinevere's best friend, Peach Salinger.